Letícia Custódio
Biographical Information
Letícia Custódio was born in Barretos, São Paulo state, Brazil, on March 23, 1988. She is the oldest daughter of Jaime José Custódio e Sueli Aparecida Ferreira Custódio. Her sister is an Engineer undergraduate student. Letícia spent her childhood and youth in Barretos where all her family lives.

In 2006, Letícia began her Animal Science undergraduate program at the University Center of Educational Foundation of Barretos (Centro Universitario da Fundação Educacional de Barretos). As an undergraduate, Letícia was an intern on the São Paulo's Agency for Agribusiness Technology (Agencia Paulista de Tecnologia dos Agronegocios de São Paulo) in Colina city from August/2007 to June/2010 working with beef cattle production and forages. The projects included rotational grazing testing different tropical forages, supplemental strategies under grazing system, and feedlot management.

She arrived at Range Cattle REC, Ona, Florida in August 2010 as an intern. Letícia will receive her Animal Science degree in January of 2011.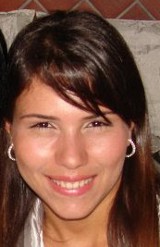 Intern