Wesley M. Anderson
Biographical Information
From Pennsylvania, Wesley M. Anderson was born in Bucks County and raised in Lancaster County where he graduated from Cocalico Senior High School in 2005. He then began pursuing a B.S. in Biology at Davidson College, a small liberal arts school near Charlotte, North Carolina. At Davidson he worked under the advisement of Dr. Michael Dorcas. Fascinated with reptiles and amphibians since an early age, it was at Davidson where he received formal training in field and laboratory techniques related to ecology and conservation biology, particularly of herpetofauna. He also spent a semester living in Botswana through the School for International Training and taking ecology-related coursework.
After graduating from Davidson College in 2009, Wes attended Texas Tech University where he received an M.S. in Wildlife, Fisheries, and Wildlands Science and Management in 2012. Under the advisement of Dr. Gad Perry, Wes examined aspects of the ecology and conservation of the Texas horned lizard in an understudied part of its range for research related to his thesis. He also had the opportunity to travel to a small private island in the British Virgin Islands to study the ecology of a reintroduced population of a highly imperiled iguana species, the stout iguana.
Before beginning a PhD program at the University of Florida, Wes worked in the private sector and taught English abroad for several years. As an environmental consultant back in Pennsylvania, he dealt with development issues related to endangered species, particularly turtles and rattlesnakes, as well as issues dealing with wetland delineation, permitting, and monitoring. As an English teacher in Montevideo, Uruguay, he taught businessmen and women English at their workplaces.
Wes began pursuing a PhD at the University of Florida in 2014. He is a student in the Department of Wildlife Ecology and Conservation and is advised by Dr. Raoul Boughton. He remains broadly interested in ecology and conservation, particularly of herpetofauna, and has developed a strong interest in conservation in agro-ecosystems. For his dissertation research, Wes plans to study the effects of habitat disturbance caused by feral swine on Florida rangeland seasonal wetlands and amphibian communities.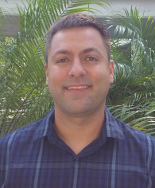 Ph.D. Student