Uduak Ime Inyang
Biographical Information
Uduak Ime Inyang was born in Lagos, a big town in Lagos State, Nigeria on September 9, 1978. She comes from Akwa-Ibom, a southern state in the Republic of Nigeria. Uduak is the second daughter of Ime Sampson Inyang and Afiong Ime Inyang, both retired civil servants of the liquidated national carrier, formerly known as Nigeria Airways.
Uduak started her undergraduate degree program in agriculture at the University of Benin, Benin City, Nigeria in 1996. After six years , she graduated with a Bachelors degree in Agriculture (Animal Science Option) in June, 2002. In 2001, during her Field Practical Training (FPT), Uduak worked with her first advisor Dr. M. A. Olanrewaju Bamikole, who came up with the opportunity of studying in the USA four years after graduation.
In January 2007, Uduak started her Master~s degree program at the University of Florida, Gainesville. She worked with her first advisor Dr. Ike Victor Ezenwa of the Southwest Florida Research and Education Center, Immokalee. In May, 2007 Uduak moved to Ona, Florida to conduct her research on Brachiaria hybrid (Mulato)advised by Dr. Joao Vendramini at the Range Cattle Research and Education Center.
Current Work
Cutting heights and frequency effects on the production and nutritive value of Mulato.
Grazing intensity and effects of different stocking rates on Mulato.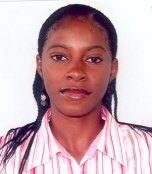 M.S. Student