Reinaldo Fernandes Cooke
January 21, 2009 Update
Reinaldo Fernandes Cooke was recently hired by Oregon State University to work at the EOARC-Burns as a Beef Cattle Specialist.
Reinaldo grew up in a medium-sized town surrounded by large citrus, sugarcane, and cow-calf operations in the state of São Paulo, Brazil. He received a B.S. degree in Animal Sciences from the São Paulo State University in December 2003, and moved to Florida in the fall of 2004 to attend graduate school. Reinaldo received both M.Sc. (May 2006) and Ph. D. (December 2008) degrees in Animal Sciences from the University of Florida. His graduate research focused on beef cattle nutrition and management, and was conducted under the direction of Dr. John Arthington, associate professor and director of the UF/IFAS-Range Cattle Research and Education Center, Ona.
Reinaldo plans to build an integrated research and extension program targeted to address the needs of beef cattle producers in the state of Oregon. More specifically, Reinaldo plans to directly investigate questions and issues raised by Oregon beef producers, delivering answers and results via extension activities and materials, and also focus his research program on alternatives to enhance productivity of growing and mature cattle within cow-calf scenarios.
Reinaldo is married to Flavia Cooke, who is also working at the EOARC-Burns as a Faculty Research Assistant with Dr. David Bohnert. They're expecting their first son, which is due in May. If you would like to meet or contact Reinaldo, please feel free to stop by, call, or send him an email.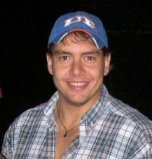 Ph.D. Student