Pedro Dias Sales Ferreira
Biographical Information
Pedro was born in Belo Horizonte, MG, Brazil on March 18, 1988. He is the youngest son of Raimundo Gonçalves Ferreira and Maria Isabel Dias and brother of Maria Raquel Dias Sales Ferreira. In 2006 Pedro began his undergraduate program in Veterinary Medicine at Universidade Federal de Minas Gerais. As an undergraduate, Pedro was granted a scientific initiation schorlarship from Brazilian National Council of Scientific and Technological Development (CNPq) to participate in research with forage crops and ruminant nutrion in Animal Science Department under advising of Dr. Lúcio Carlos Gonçalves.

In 2010 Pedro finished his undergraduate degree and in the next year (2011) he started his M.Sc. in Animal Science at the same University, when he worked with agronomic and nutritional evaluation of normal and bmr mutant sorghum x sudangrass hybrids at different harvest ages. In July, 2011 he finished his M.Sc. degree and started his Ph.D in Animal Science under the advisement of Dr. Lúcio Carlos Gonçalves, continuing with the same project of his M.Sc. degree. During his undergraduate, M.Sc. and Ph.D, Pedro have published several peer reviewed papers, book chapters and abstracts on ruminant nutrition and forage crops.

In August, 2013 Pedro moved to Ona, Florida, where he will spend four months at the Range Cattle Research and Education Center working with grazing management and ruminant production under grazing systems under the advisement of Dr. João Vendramini, as part of his Ph.D degree program.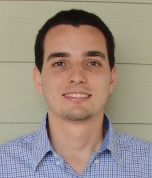 Exchange Student