Janerson Coelho
Biographical Information
Janerson Coelho was born in Recife Brazil, on June 30, 1988. He is oldest son of Jamesson Coelho and Maria de Lourdes, and brother of Jamerson Coelho, a policeman. He began his undergraduate studies at Universidade Federal Rural de Pernambuco (UFRPE) Brazil in Animal Science in 2007 and should receive his degree in 2012. During his undergraduate studies he has performed many internships and activities in equine science, dairy science and agribusiness. He was a member of the Programa de Educação Tutorial (PET) and developed a great deal of activities in teaching, research and extension in animal science.

In January of 2011, Janerson began his exchange program at University of Florida (UF) sponsored by (CAPES/FIPSE) in the program of "Ruminants Production in the XXI century: Globalization of teaching, research and extension to support sustains systems of management and animal nutrition". During spring classes at UF he performed various laboratories activities in the Forage Lab, under the supervision of Dr. Lyn Sollenberger and Dr. João Vendramini.

In May of 2011 he started his academic training at the UF/IFAS Range Cattle Research & Education Center in Ona, under the supervision of Dr. João Vendramini.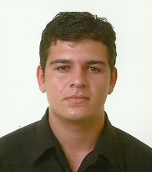 Intern