Davi Brito de Araujo
Biographical Information
Davi Brito de Araujo was born in Mogi Mirim, a small town localized in the Citrus Belt of state of São Paulo/Brazil, on February 19, 1981. He is the oldest son of Eduardo Netto de Araujo, a mechanic engineer; Arlete Aparecida Brito de Araujo, a sport educator; and brother of Marília Brito de Araujo, an advertisement undergraduate student. He is also the oldest grandson of Eivany Julianetti de Brito, who owns a cattle ranch in Aquidauana / MS, and an orange grove and feedlot ranch in Mogi Mirim /SP, where he spent all his childhood and when his background in cattle began.
Davi started the School of Veterinary Medicine at the Sao Paulo State University (UNESP) - Botucatu / SP, in 2000. The UNESP - Botucatu Vet School has been ranked among the Top 2 programs in the country during the last 15 years. During the five years of the vet school program, Davi participated at the Student Enterprise of Beef and Dairy Production (CONAPEC Jr.) with his first advisor Dr. Jose Luiz Moraes Vasconcelos, who offered the opportunity for Davi to study as an intern in the USA during his last two semesters of his Vet School program.
In January 2005, Davi started an internship at UC Davis - VMTRC Tulare, advised by Dr Jose Eduardo Portela Santos, where he had the chance to work with nutrition, reproduction and health of dairy cattle. On July 2005, he moved to Ona, Florida, where he started another internship, advised by Dr. John Arthington at the Range Cattle REC. At Ona, Davi worked with beef cattle management, trace minerals, and fatty acid supplementation and immunology, along with his friend Reinaldo Cooke.
Davi received his DVM degree in December of 2005, and came back to the RCREC in March of 2006 to work on another internship. He started his Master of Science degree in the summer of 2007, which will be completed during the spring 2009.
In the summer of 2008, Davi started a Master of Agribusiness, which is combined with his first Master, in the Department of Food and Economic Resources, advised by Dr. Allen Wysocki.
Davi has 3 publications in refereed journals and 16 abstracts.
Currently Davi is living in Ona at the RCREC, producing more research and finishing his Thesis.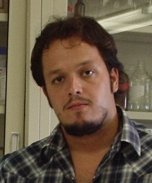 M.S. Student