Passing of Dr. Martin B. Adjei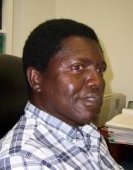 Dr. Martin Adjei, our friend and colleague, was killed August 15th in a tragic automobile accident on his way home from work. Please keep Dr. Adjei's family in your thoughts and prayers during this very difficult time.
A memorial service for Dr. Martin Adjei will be held Saturday, August 26, at 11:00 AM, at Hickson Funeral Home located at 142 South Orange Ave, Arcadia, FL 34266. Ph: 863-494-2920. Following the service lunch will be available at the Adjei home, located at 8721 SW County Road 769, Arcadia, FL 34267.
Directions to Hickson Funeral Home:
From the east or west, take SR 70 into Arcadia and turn south on Orange Ave. From the north or south take US 17 to SR 70. Travel west on SR 70 to Orange Ave and take a left.
Burial will be at Quitman Cemetery in Sanderson, FL on Sunday, August 27. The funeral procession will gather at Cooper Funeral Home located at 251 NE Washington Street, Lake City, FL at 10:30 AM Sunday, August 27. (No services will be held at the funeral home). The procession will go from Lake City to the Quitman Cemetery in Sanderson for a noon burial service.
If you would like to send a card to Dr. Adjei's wife Gloria please sent it to: PO Box 556, Ft. Ogden, FL 34267