Passing of Dr. Findlay M. Pate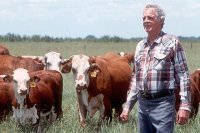 Findlay Moye Pate, PhD, 65, passed away at Winter Haven Hospital of a heart attack on March 21, 2006. He was born January 24, 1941, in Davisboro, GA, to William Wayne Pate, Sr. and Valeria Moye Pate. He was preceded in death by his son, Craig Moye Pate and his parents. Dr. Pate is survived by his beloved wife of 45 years, Vicky Scruggs Pate; daughters, Julie Criser-Pate of Alpharetta, GA; Celia Pate and son, Joel Pate (Tracy) of Wauchula, FL; sister, Carolyn Pate Sheppard of Sandersville, GA and brother, William Wayne Pate, Jr. of Davisboro, GA; grandchildren Emah Criser-Pate, Hugh Pate, Kaitlyn Kennedy and Wyatt Kofke.
Dr. Findlay Pate retired from the University of Florida/IFAS June 2005 after 35 years of service, with the last 22 years as Center Director at the Range Cattle Research and Education Center in Ona. As an IFAS leader, he was widely known for his strong support of the Florida cattle industry and asked that all programs at Ona be directed toward improving the lives of our Florida cattle ranching families. He was widely recognized for his support of county extension faculty, which was always a visible component of Ona's research and education programs. He was truly the Cattlemen's professor and an undeniable link between UF/IFAS and the strong bond of support among the beef clientele. He will be deeply missed by all who new him and were impacted by his life. He was also an avid hunter and outdoorsman.
Funeral Services for Dr. Pate were held on Friday, March 24, 2006 at First United Methodist Church in Wauchula, Florida; followed by burial in Davisboro, Georgia on Sunday, March 26.
In lieu of flowers, the family asks that donation be made to the Florida Cattlemen's Foundation, PO Box 421929, Kissimmee, FL 34742-1929.