Pasture Weed Day 2006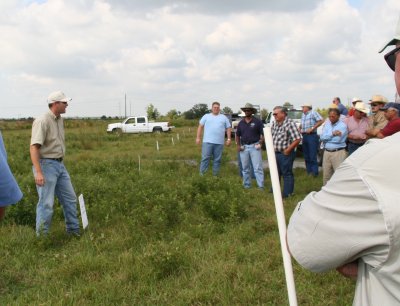 Pasture weed day was held at a private pasture near Limestone on October 11. Over 70 clientele were present for the field day, including ranchers, county extension faculty, and industry representatives. Speakers for the field day included Dr. Brent Sellers, Dr. R. Charudattan (Charu), Dr. Greg MacDonald, Dr. Jason Ferrell, and Dr. Ken Langeland. Each speaker spoke for approximately 20 minutes before moving to the next location within the pasture.

Dr. Sellers spoke on treating mixed stands of tropical soda apple and dogfennel. With the new herbicide Forefront, dogfennel control has been marginal at best. A field trial was shown that included tank-mix options for dogfennel and tropical soda apple control. Attendees learned that we have many options for tank-mix partners for dogfennel and tropical soda apple. The best treatments from these plots were demonstrated in the pasture on a commercial level.

Charu spoke on a biological control agent for tropical soda apple. He had inoculated soda apple plants with tobacco mild green mosaic virus (TMGMV) over a period of 4 weeks to show the decline in soda apple plants over time. The benefits of the virus include partial coverage of the plant with the virus solution, limited risk to non-target plants, it is not insect- or nematode-transmitted, and safety to humans, native fauna, and the environment.

Dr. Greg MacDonald talked about cogongrass biology and control. He spent considerable time detailing how cogongrass grows and why it has adapted to Florida's environment. Greg also spent considerable time detailing the timing of the herbicides glyphosate and Arsenal for effective cogongrass control. He emphasized that the best time to control cogongrass is approximately two weeks before a killing frost.

Dr. Jason Ferrell spoke on controlling blackberry species. Jason told attendees that they needed to throw everything they knew about pasture weed control out the window when it comes to controlling blackberry. He spent considerable time explaining the biology of the plant to emphasize why it takes multiple years and/or herbicide applications to obtain complete control. Jason demonstrated our most recent herbicide trials that provide sufficient control at an economical level.

Dr. Ken Langeland talked about woody plant control, specifically spending time on Brazilian peppertree. He also stated that cattlemen are good stewards of the land and that we, as ranchers, can help prevent the spread of invasive species by controlling them in fencerows, especially those that border natural areas. Ken also demonstrated a couple techniques for woody plant control.

The field day tour ended with a steak lunch catered by Perry's Cookouts at the Range Cattle REC. Lunch was a fantastic conclusion to an excellent educational weed field day.

We would like to thank our sponsors for supporting this field day, including: Dow AgroSciences, DuPont, Helena, FMC, Douglass Fertilizer, and The South Florida Beef-Forage Program. Special thanks to tour drivers Jeff Steele, Justin Snyder, Joe Vendramini, and Josh Sosa and Mr. John Beattie for loaning his truck and flatbed trailer. In addition, we would like to thank Mr. David (Lefty) Durando and Mr. Jay Bellflower for allowing us to hold the field day in their pasture.