Field Day 2006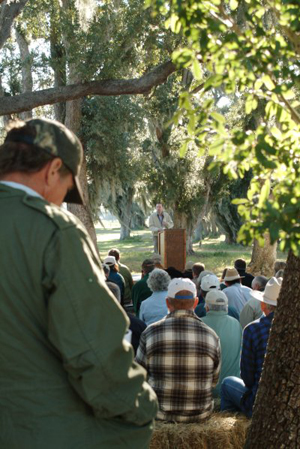 This field day was held on October 24, 2006 at the Range Cattle REC, in memory of Dr. Martin Adjei. Although the weather was chilly, there was a good attendance, with 210 persons enjoying the talks, lunch, and tours.
Coffee and sun shine were in high demand that morning as the field day began with temperatures in the low 50's, rising to a high of 70 for the field tours. Temperatures were accompanied by a steady 5-7 mph breeze, that persisted for most of the day.
Moderator for the day was Pat Hogue and speakers included Dr. Ike Ezenwa, Hal Phillips, Dr. John Arthington, Dr. Larry Arrington, Dr. Brent Sellers, Dr. Maria Silveira, Dr. Joao Vendramini, Dr. Paul Mislevy, and Dr. Raghavan Charudattan.
Special thanks to the Hardee 4-H Foundation for the excellent steak lunch! It was enjoyed greatly by all.
If you would like a copy of the field day proceedings call 863-735-1314 or e-mail ona@ifas.ufl.edu.