Dr. Hance Ellington Previous Students
Hannah Fox, Intern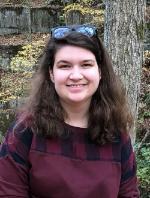 Hannah is from Indianapolis, IN. She has always loved animals and nature. She received her Bachelor's in Ecology and Conservation in 2020 at The Evergreen State College in Olympia, WA. This was an interdisciplinary program, which got her interested in human dimensions, as she studied policy, economics, and humanities alongside science. In her junior year she conducted an independent study on the impact of western conservation practices on Indigenous peoples, particularly in Africa and Asia, and solutions to conflict through community-based conservation. In her senior year, she took a course on Island Ecology and Evolution and for her capstone project wrote a feasibility report on potential conservation actions for the Perdido Key Beach Mouse, helped create a student-originated course on the biology of sharks and rays, and conducted another independent study, this time working on quantitative techniques in conservation and planning and prioritization.
Hannah is starting her Master's in Earth and Environmental Resources Management at the University of South Carolina in Columbia in Fall 2021. She will be working with Dr. John Kupfer in the Geography department and focusing on conservation planning, landscape ecology, and GIS. It is an internship-based program, and she hopes to be able to intern with SCDNR or the Congaree Land Trust. This summer, she is working with Dr. Hance Ellington at the RCREC to design and implement a survey of landowners on wild pig management, in order to identify barriers to the use of best management practices. She'll also assist with the bluebird nest box project.
In addition to studying wildlife and spending time outdoors, Hannah loves listening to music. She is an avid concert-goer and can't wait for shows to start again, and collects CDs and vinyl. As an undergrad, she volunteered as a DJ at her college radio station, hosting a show highlighting women artists, and hopes to get back into DJ-ing at U of SC if she has the time.
Contact Hannah at foxhan13@gmail.com.