Dr. Phillipe Moriel Current Students
Vinicius de Souza Izquierdo, PhD Student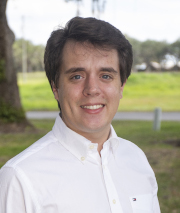 Vinicius Vinicius grew up in Camaquã, a small city located in the south of Rio Grande do Sul state - Brazil. In 2014 he started to study Veterinary at the Federal University of Pelotas and graduated in 2018. Vinicius collaborated with several research and extension projects about animal metabolism, reproduction, and nutrition during the Veterinary program. Still, as an undergraduate, Vinicius went to Argentina at the Universidad Nacional de Río Cuarto to do an internship under the guidance of Dr. Luis Losinno. He worked with embryo transfer, oocyte maturation, and gamete preservation of mares.
In 2019 Vinicius started his Master's program at the Federal University of Pelotas, advised by Dr. Marcio Nunes Corrêa and co-advised by Dr. Eduardo Schmitt. During his Master's, Vinicius developed two experiments with rumen-protected methionine supplementation for postpartum Nelore cows exposed to high temperature-humidity index environments and its effects on heat-stress and reproductive parameters.
From July 2021 to January 2022, Vinicius did an exchange visitor program as a research scholar at the UF/IFAS Range Cattle REC, under the guidance of Dr. Philipe Moriel, to work with the Ona nutrition and management group. In May 2022, Vinicius started his Ph.D. program, where he will work with heat stress during late gestation of Bos-indicus influenced beef cows and how it impacts the offspring.
Contact him at vinicius.desouza@ufl.edu.