Dr. Hance Ellington Current Students
Zachary Holmes, MS Student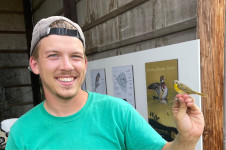 Zachery was born in Terre Haute, Indiana but was raised in Volusia County, Florida. Growing up on 20 acres helped cement his passion for the outdoors and wildlife. Zachery attended the University of Florida for his undergrad in Wildlife Ecology and Conservation, where he found his passion for birds and avian ecology. He is now back pursuing a Master's degree under advisement of Hance Ellington out of the RCREC.
Prior to beginning his program, Zach worked for several entities including research stations, governmental agencies, and private consulting companies across the state of Florida. Zach's previous experience, passion, and research revolve around birds and how they adapt to anthropomorphic dominated landscapes such as urbanization, agriculture, and climate impacted landscapes. He has extensive work with state and federal listed avian species such as shorebirds, Florida scrub-jays, Florida burrowing owls, and southeastern American kestrels. Zach's goal is to continue applied avian research and education both in Florida and abroad.
Zach also spends a lot of his free time volunteering for a few non-profit conservation groups throughout Florida that promote and educate about avian conservation such state and local Audubon chapters and the Florida Young Birders Club. Outside of volunteering or work, Zach can be found birding, hiking, kayaking, binge watching Netflix or hanging out with friends and family (including the pups).
Contact Zachery at Zholmes03@ufl.edu.

Bri Ryver, MS Student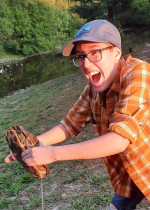 Bri earned their BSc in Wildlife at Purdue University in Fall 2021. Some of their work highlights include two years in an underground rodent lab, working with Dr. Rod Williams and his hellbenders and traveling around Indiana to camp and collect data on eastern hemlock. In December 2021, Bri became a master's student working with Dr. Ellington on the wild pig management survey.