Ester Cristina Ricken
Biographical Information
Ester is originally from Braço do Norte, Brazil. She grew up on a dairy farm in a small town in southern Brazil where her interest in agriculture started at an early age. During high school, she decided to pursue a technical degree in agriculture at the Federal Institute of Santa Catarina.
Ester is currently an undergraduate student in the same institution pursuing a B.S. degree in Agronomy. Ester has worked with soil and forage research team for almost two years. Her previous experience includes working on a dairy farm, an ag retailer, and in her university's extension division.
In September 2021 she joined Dr. Maria Silveira's program for a 1-year student internship as an exchange visitor at the UF/IFAS Range Cattle REC in Ona.
After she completes her program at UF, she is interested in continuing her education and possibly pursuing a master's degree.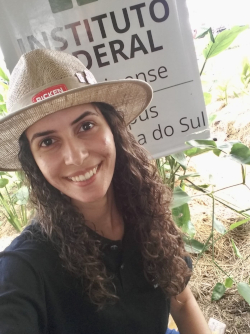 Exchange Visitor, Student Intern