Andre Luis da Silva Valente
Biographical Information
Andre Luis da Silva Valente was born in Anapolis, Goias, Brazil, on September 21, 1986. He is son Cesar Otavio Valente and Ivanilda da Silva Valente. He graduated with a Bachelor of Science degree in Animal Science from the Goias State University at Sao Luis de Montes Belos, Goias, Brazil in August 2008.

In March of 2009 he started his M.Sc. program in Animal Science at the Sao Paulo State University, under the guidance of Dr. Ricardo Andrade Reis, working with forage management and animal production on pastures. He received his M.Sc. degree in February of 2011. In March of 2011 he started his doctorate´s degree in Animal Science at the same University. During his program he will work with forage production, ruminant production under grazing systems. Looking optimize the system and the mitigation of greenhouse gases.

He arrived at Range Cattle REC - University of Florida in March 2011 as a visiting Scholar under advising of Dr. Vendramini.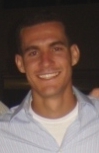 Agronomy