Dr. Martin B. Adjei Memorial Scholarship
Lockie Gary - Hardee County Extension Directory/Livestock Agent, UF/IFAS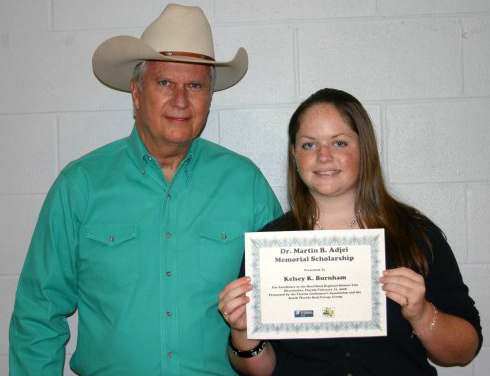 Kelsey K. Burnham is the 2008 winner of the Dr. Martin B. Adjei Memorial Scholarship sponsored by the Florida Cattlemen's Association and the South Florida Beef/Forage Group. Kelsey is a Freshman (9th grade) at Okeechobee Freshman Campus. The $200 scholarship was awarded this year for the first time for Excellence in Science and presented by Lockie Gary, Hardee County Extension Director. The presentation was made at the Heartland Regional Science Fair held at Osceola Middle School in Okeechobee on February 21, 2008.
Kelsey's topic was titled "From Grass to Gas: Using Common Forages to Produce Alternative Biofuels." Her Science Teacher was Ms. Richonda Manson.
Dr. Martin B. Adjei was a Forage/Agronomist employed by the University of Florida at the Ona Range Cattle Station. He was the recipient of the Florida Cattlemen's Association Researcher of the Year Award in 2004. He was tragically killed in an automobile accident while traveling home from work on August 15, 2006.